Notes for "Bungie's Force Multipliers - Production Engineers" GDC2019
TLDW Summary: How Bungie organized a dedicated task force of engineers to stay on top of production challenges, blocking issues and shielding Tech-Artists and Engineers from random support requests.
Keywords
Support
Tools Role
Production
Presentation Table of Contents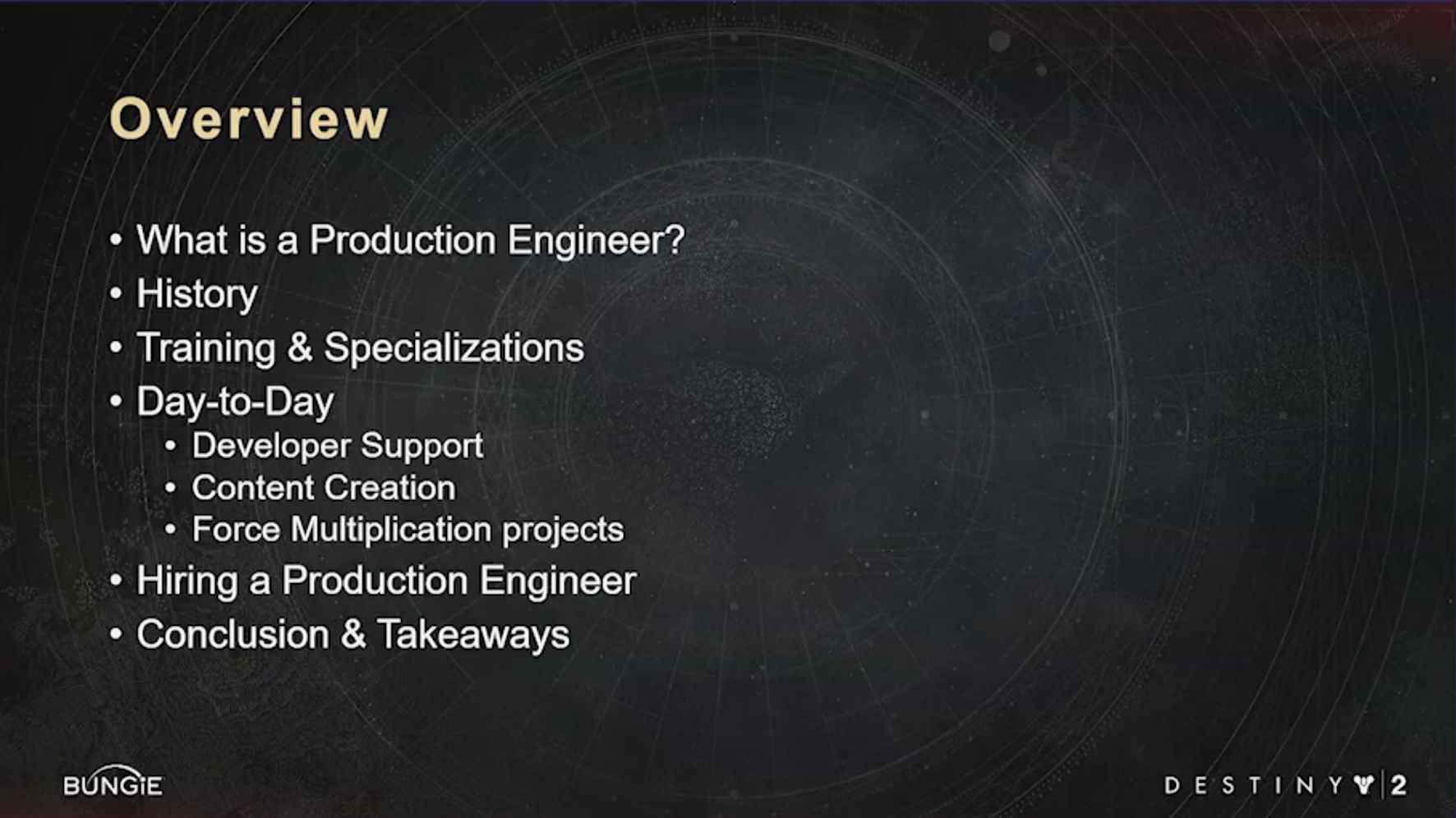 Presentation Timestamps
What is a Production Engineer (PE)?
timestamp: 1 min into the presentation
PE is a dedicated engineering role that comes to the rescue when a content creator hits an issue that blocks his/her work.
PEs also track down the root cause of an issue and bring the issue up to the teams that can fix it.
PEs are aware of all of the current issues that are blocking developers in the studio

they know how to fix the issue
they know how to work around the issue
they know who is fixing the issue

The skill set of a PE is a combination of an Engineer, Tech Artis, Tester, and a Producer
PEs look for possible inefficiencies in the workflows of devs that are getting blocked
PEs spot workflow automation potential
History
timestamp: 6 min into the presentation
the PE role was formed from a need to have a dedicated person help with random technical issues on the development team
there were several gaps in the production knowledge base:

missing tools documentation
missing workflow documentation

when the PE team was formed there were about 3-4 PEs
Bungie tries to keep the PE ratio to 1:20 users
PEs should have the following traits
Diverse Backgrounds
Training & Specializations
timestamp: 10 min into the presentation
PEs have a training regimen for new hires

a PEs from different teams train the new hire

a PE is a generalist but usually will specialize in a particular area of the game production
PEs are also responsible for bringing up to speed new hires in the "users" team
Day-to-Day
timestamp: 13 min into the presentation
there is usually a PE in walking distance from a Content Creator
details on managing Special Email Support list and issue tickets at min 15
about 15% of issues need to be escalated beyond the PE team
PEs help Tech-Artists and Engineers focus on their primary work duties, thus maximize the effectiveness of those teams
PEs can temporarily act as a substitute of a Content Creator and step into that role knowing the process and workflows
PEs are in a constant search for the underlying issue

is it workflow related?
is it tool related?
is there enough staff?

20% of a PE's time is spent in projects that solve small to mid-sized issues that the engineers don't have time to address

examples:

BungieLauncher
Cleanup of old and not used content
Hiring a Production Engineer
timestamp: 33 min into the presentation
key skills
"foot in the door" type of a position - not a bad thing
Q&A
timestamp: 38 min into the presentation
it is part of a PE's job to drive cultural change
when the PE team was set up the hiring was done internally
PE's time is organized depending on the situation
it is vital for a PE to attend retrospectives
These notes are just the main ideas of the talk. They don't contain anecdotes and examples. If you want to learn more, I would advise watching the talk on the GDC Vault.
The Toolsmiths

I took these notes as part of our little "Book Club" for GDC Vault Videos The Toolsmiths #vault club
Jo King-Yost is a member of the Toolsmiths community. The Toolsmiths are a community of Game Tool Developers that are passionate about improving the way people make games.
Join us on Slack.
Join us on Twitter.
Links
Related Blog Links
Related talks